Social Program
The Congress will feature a welcome reception and a banquet dinner.
Welcome reception
Tuesday, August 27th
All attendees are invited for a complimentary welcome reception at City Hall on August 27th. The welcome reception is generously provided by the City of Stockholm
City Hall, with its spire featuring the golden Three Crowns, is one of the most famous silhouettes in Stockholm.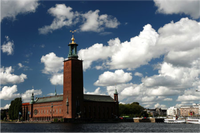 Banquet
Wednesday, August 28th
All attendees are invited to a swedish style banquet at Winterviken on August 28th. Prize:  € 50 per person. 
In beautiful Vinterviken, only 15 minutes away from Stockholm city lays the old factory of Nobel from 1891. Now, it's an excellent restaurant owned and run by one of Sweden's most reputed chefs.